Ionic UIUX App Template
#1 shopping app with 40+ screens and more coming…
Universal iOS & Android Ionic eCommerce mobile app with CMS

Best app for Fashion, Electronics, Grocery, Restaurant…

Multiple styles for Home & Categories pages

Payment gateways (Braintree, Paypal & Stripe)

Support coupon, shipping & tax

Clean and well commented code
Advanced admin panel made with PHP Laravel Framework

Product additional attributes / Commerce pricing attributes

Multi languages (LTR & RTL supported)

Firebase push notification

Well documentation and support
A great app starts with the right mobile app development technology. We used latest tools with advance techniques.
Versoin : 1.0 | Powered By : Elite Author
IonicEcommerce is complete mobile app solution for android and iOS platform with Laravel Ecommerce as backend. You have variety
of readymade ecommerce pages to create your mobile app. It's best app for any type of store like Fashion, Electronics, Grocery and Restaurant.
Whether you are store owner or developer, it's best solution for faster development with low cost. We Provide installation & customization
services at reasonable price.
1460+ Hours of Development
Styles and Themes

Bild with SASS
We have created a very well-structured main Sass File carrying all hot attributes. So now you have the opportunity add more value   to your screen to make it more fascinating.
Save your 1000+ Working Hours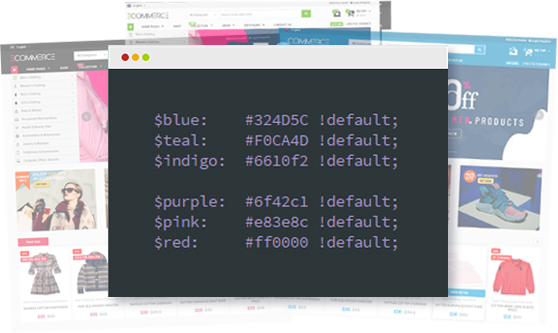 Installation & Customization
We provide professional web and app development services along with app submission on apple and android stores. We handle the configuration and building process of your app. Don't worry about all the technical requirements. Just contact us and get everything done. We will go through the whole submission process for you. You'll only have to provide your requirements, we will take care of the rest.
Installation Services
Al though our handy solution pack is quite easy to handle. We have created a very precise and comprehensive user manual for guidance purpose, yet, if you still want to avoid and refrain from technical glitches, our virtual technical support team is always there at your service. We charge $300 fee for entire installation process without any additional fees or hidden charges. Feel free to contact us in case of any query regarding installation process.
Phase 1 – Application Configuration
Android and IOS Application Configuration and Testing
1. Laravel Installation and setup
2. Thumbnail generate plugin installation for performance
3. Android and IOS configuration, IOS splash screen, copyright and package name change
4. Logo and theme color management
5. Slider, banner and category management
6. Privacy policy, contact us, about Us, social media links
7. Social media login
8. App icon
9. Push Notification Configuration
Information needed
1. Hosting Cpanel info
2. Application name
3. Bundle name
4. Color code primary
5. Color code secondary
6. Color code header
7. Social media link
8. Apple developer Account
9. Firebase Account
Images needed

1. Category icons(60 x 60)

2. Home category image(420 × 305)
3. Slider images(1125 × 633)
4. Banner ads(1080 × 353)
5. App icon in 1536*1536
6. Splash screen (750*1334)
7. Header Logo(164*51)
Phase 2 – Application Submission
Android Application submission
1. PlayStore Account Details
2. Short description
3. Full description
4. 1024 w x 500 h Feature Graphic Banner
5. Application's Screenshots.
6. Category
7. Email
8. Privacy Policy
iOS Application Submission
1. Apple developer account
2. Screen shot of the application (1242*2208) upto 7 https://shotbot.io/ Use this for screenshot which will save your time
3. Primary Language
4. Category( https://developer.apple.com/app-store/categories/)
5. Price
6. Availability(territories)
7. Promotional text (160 character max)
8. Description
9. Keywords
10. Support URL
11. Marketing URL
12. Copyright
13. Phone Number, Email, First name, Last name, Address, pincode, State
14. Demo account details
Customization Services
Once you are done with the installation services, further detailed customization is yet another important part. If you want to enforce some tailored changes in the product, for instance, addition of some certain plug-ins, and, addition or removal of some features, our technical support team would dedicate its flawless services for a mere $30/Hour for as long as you want for the changes to take effect.
Testimonials
We prefer relation building over monetary gains. Our clients are our biggest asset. Have a glimpse of how they acknowledge our services.
Very nice Ecommerce script with many features and very well designed. Developper is always helping buyers. Good job
Very good, and very flexible application to use. If you have limited understanding with Ionic framework but have knowledge about software systems, this is the best you may found.
Easy to customize and full ecommerce feature such as online payment – 5 stars app
A complete e-commerce app. Customer support is also fine 🙂 . Design Quality is perfect I think.
Simply Great App, flexible and the support are very responsive and helpful.
Thank you very much to the creators of the program. It is the most convenient and functional of all analogues! Thanks for the support!